Today is the day after Mardi Gras, and I'm still in the mood, so here's a little deviation in theme. In 2007, Hobby Builders Supply's Creatin' Contest called for entrants to use Greenleaf's Travel Trailer kit as a base for imagination. We'd been recently run out of New Orleans by Hurricane Katrina, and the trailer immediately put me in mind of a float.
HBS is here: http://www.miniatures.com/
Greenleaf is here: http://www.greenleafdollhouses.com/
Even though I was green as green can be working with miniatures, this entry won first place in the contest and a $500 gift certificate. I can't tell you how tickled I was to have won!
I'm sharing a few photos here, but you can see lots more at my blog in the Greenleaf Forum: http://www.greenleafdollhouses.com/forum/blog/kathieb/index.php?cat=96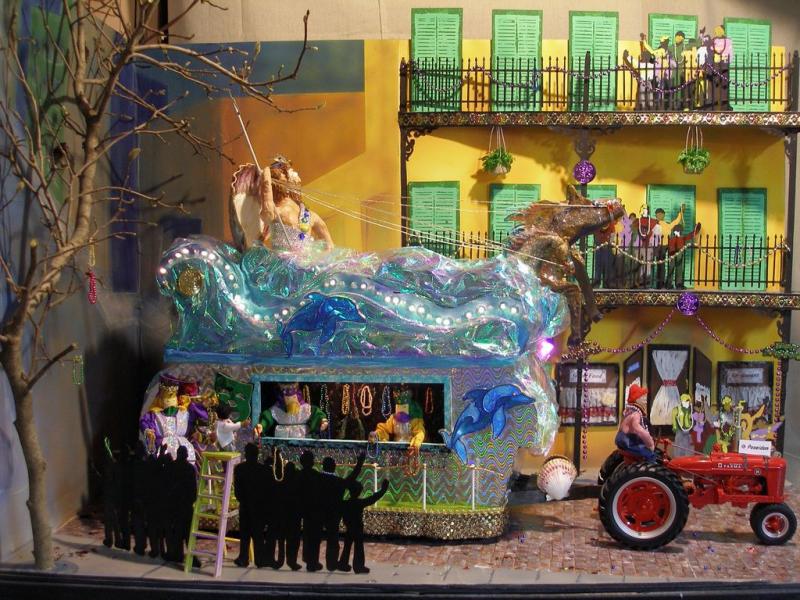 The Poseidon float rolls down a street in the French Quarter, pulled by a tractor, the traditional tow vehicle for floats after the mules retired. Beads in the trees, glittery trash on the street, crowds waving and calling, and the riders -- masked by law -- tossing beads and other trinkets.Three sets of lights on board -- one inside the window, a set of "chasing" lights running along the "waves", and fiber optics lighting Poseidon's eyes.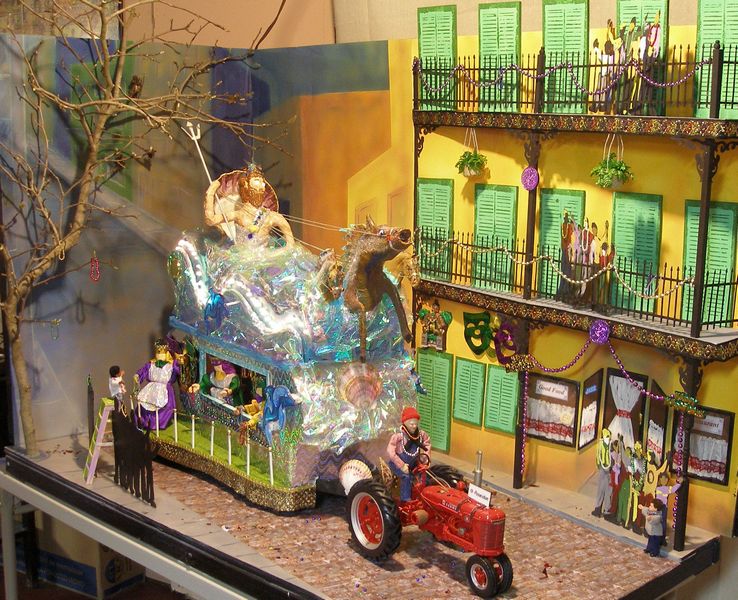 This angle shows most of the detail and the best view of Lloyd's background, most of which was airbrushed. Lloyd is my talented husband. The shuttered windows are painted foamcore with stenciled lines; the 3rd story rises above the top of the background, indicating the building is taller than shown.The curtains in the two largest restaurant windows are real; those on the door and side windows are painted. The "crowds" are cut from cardboard; color was added to the groups facing us. The two groups flanking the boy on the ladder are just black, with beads adding a bit of color and dimension.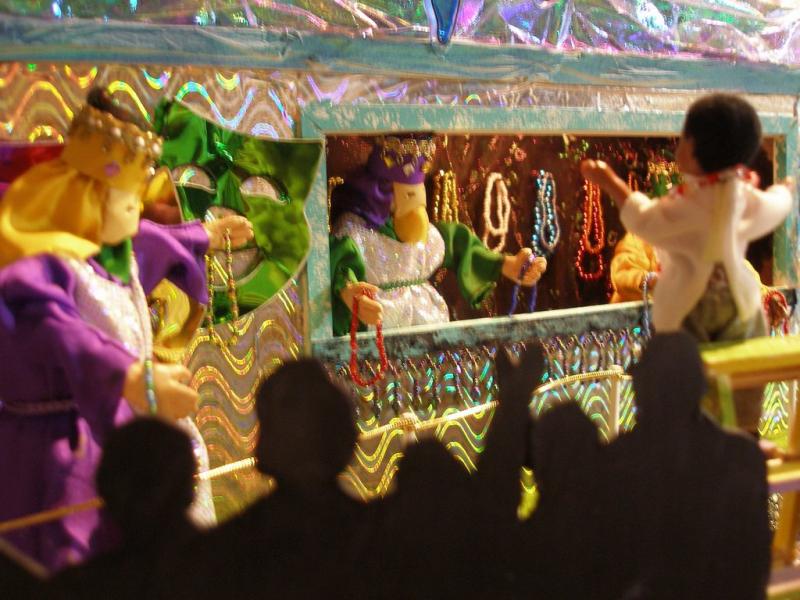 "Throw me somethin', Mistah!" ... the excitement of Mardi Gras grabs young and old alike. It's amazing how "real" this looks, just like photos I took at the parades a few of years ago.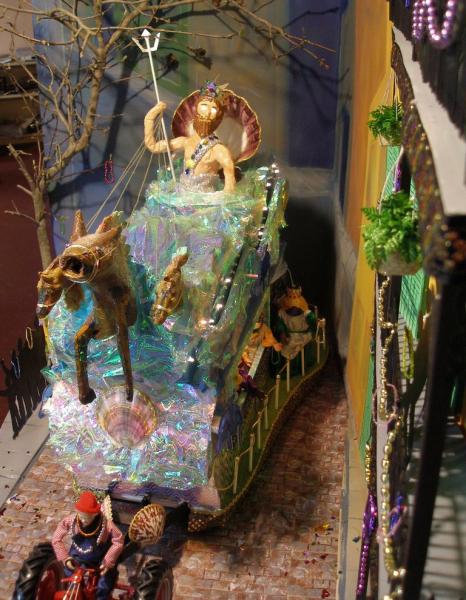 The back is a mirror image of the front side of the float. It can't be seen easily, but real floats have riders on both sides, and so does this one. On the right, parts of the balconies, which protrude from the building backdrop.The tree is a branch from our magnolia.